Please note our updated business hours: We are open Tuesday – Thursday 10am – 6pm, and Friday 10am – 3:30pm, and closed Saturday – Monday.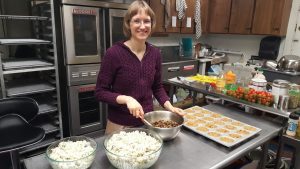 We are so glad that you have come to visit!
We specialize in using fruits, vegetables, legumes, and whole grains for optimum flavor and nutrition. All of our dishes are plant based (dairy-free and egg-free), and most of them are vegan. (a few of them use honey). You will find that a large majority of our menu is also gluten-free.
Because of our passion for good, wholesome, nutritious food, we operate a vegetarian bakery and cafe called Kristina's Kitchen in Whitley City, Kentucky. You can come visit us Tuesday through Friday and enjoy delicious food! We also teach free monthly cooking classes on the third Tuesday of each month at 6pm.
Whether or not you live in the area, feel free to look around our site. Unlike most restaurants, many of our recipes are posted on our website, so you can try them at home! Be sure to let us know how you liked it!
If you would like to print any of our recipes, just click the print icon on the recipe, and you can view them without the photos.
Please feel free to share any of these recipes! We just kindly ask that you always link to our website, so others can know where the recipe came from.
Enjoy and Happy Cooking!
~ Kristina McFeeters