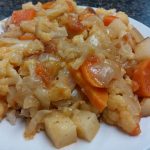 Cauliflower Curry
Cauliflower is not my favorite. Or, maybe I should say, it wasn't my favorite. It has always been one of those vegetables that only tastes good a few ways. I grew up eating it with cheese sauce or in a broccoli/cauliflower cheese soup. However, this week I had two bunches of cauliflower in the refrigerator and was NOT in the mood for soup or cheese sauce! So I got online and hunted through probably 20 or more different cauliflower ideas and recipes, until I found this really neat cauliflower potato curry recipe. It looked interesting, so I decided to try it out. Now, mind you, there isn't much left of the original recipe here! I don't know how to follow a recipe. For one, I didn't like their seasonings, for another I didn't have some of the ingredients, so I kind of bounced off the idea and made my own creation. The results were amazing! Thankfully, about halfway through, I had enough presence of mind to realize that this was going to be a really good find, so I doubled the recipe! Am so glad I did… we ate it for supper and it was so delicious, I couldn't wait to eat lunch the next day, or the next day! I have never CRAVED cauliflower in my life like I did this week!
Anyway, if you don't have cauliflower, you still can make this recipe. Use potato and another favorite vegetable, or just forget the potato and cauliflower and use something else! The base and seasonings sill be the same and you'll learn something new in the process!
Oh, and in case you are worried, the seasonings are so light in this recipe, that I guarantee, that even if you don't like curry, you will like this. It is very mild, but full of flavor, and it won't make your kitchen smell like India (sorry Indian curry lovers!). However, if you want it stronger–you know how to put more curry seasonings in! *grins* Have fun and enjoy!
Ingredients
1

onion

chopped

3

cloves

garlic

minced

2

tsp

Country Style Seasoning

see recipe in Miscellaneous section

1/2

tsp

cumin

1/4

tsp

ginger

dried OR fresh

1/8

tsp

turmeric

1/4

tsp

coriander

1/2

tsp

fenugreek

1/8

tsp

cardamom

opt.

2

potatoes

cubed

1/4

cup

water

1

cauliflower

one full head–cut into flowerettes

14

oz

canned coconut milk

15

oz

canned tomatoes

diced OR crushed

1/2

tsp

salt

to taste

1 ½

Tbsp

lemon juice
Instructions
SAUTE the onion, garlic, seasonings, and potatoes in the water until the onion is clear and water is nearly gone.

ADD coconut milk and diced tomatoes.

BRING to a boil.

COOK for 10 minutes.

ADD cauliflower pieces.

COOK for 10 more minutes, or until potatoes are tender.

ADD lemon juice and salt to taste, and turn off burner.

SERVE warm over rice.
Nutrition Facts
Cauliflower Curry
Amount Per Serving (1 cup)
Calories 159
Calories from Fat 108
% Daily Value*
Fat 12g18%
Cholesterol 1mg0%
Sodium 377mg16%
Potassium 527mg15%
Carbohydrates 12g4%
Protein 4g8%
Vitamin A 114IU2%
Vitamin C 44mg53%
Calcium 47mg5%
Iron 2mg11%
* Percent Daily Values are based on a 2000 calorie diet.