Please note our updated business hours: We are open Tuesday – Thursday 10am – 6pm, and Friday 10am – 3:30pm, and closed Saturday – Monday.
Kristina's Kitchen has a daily lunch menu of soups, salad, sandwiches and desserts. However, our special feature is our daily entree. It's always yummy and always changes every day. (It's whatever Kristina feels like cooking that day!) Usually our specials are based on the weather and what fresh vegetables are in season. She also tries to cater to customer requests, so let her know in advance if you'd like her to make something special for you!
Check out Kristina's Kitchen Facebook page (linked on our website home page) around noon each Tuesday, and you'll see our week's menu! Or call the restaurant and we'll be happy to tell you what we're serving that day!
Daily Entree Special
Our entrees vary widely, depending on what fresh vegetables are available, and often the weather. Here's some examples of things Kristina likes to make:
Spaghetti with Garden Vegetable Sauce, Garden Quiche, Cheesy Mac 'n Vegetables, Pumpkin Soup, Lentil Stew, Enchiladas, Vegetable Fettuccini, Creamed Potatoes 'n Peas, Scalloped Potatoes, Black Bean Burritos, Tomato Soup/Grilled Cheese Sandwich, Cheesy Broccoli/Rice, Chick Pea a la King, Portabella Pot Roast, Meatless Patties, Quinoa Salad, Chick Salad Sandwich, Falafel Pita with Cucumber Dressing, Pasta Salads, Potato Salad, Tabouli Salad, Green Bean Salad, and so many more!
Watch our facebook page to see a photo of our daily special!
One thing you can count on–whatever Kristina cooks tastes amazing!
Combo Lunch/Dinner Deals
1 Regular Entree with 1 Small Salad and 1 Side
1 Regular Soup with 1 Small Salad and 1 Side
1 XLarge Soup with 1 Small Salad and 1 Side
1 Large Salad with 2 Extra Toppings and 2 Sides
1 Small Soup with 1/2 Sandwich of choice and 1 Side
Appetizers
Soups
All our soups are hearty and very filling. We like thick, creamy soups at Kristina's Kitchen. Try one and we guarentee you'll be glad you did!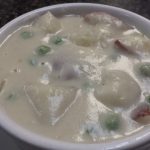 A delightful combination of potatoes, cabbage, broccoli, carrots, onions, and garlic, in a creamy cashew base. Comes with our homemade almond crackers or fresh cornbread.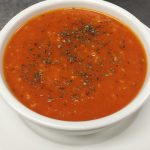 Hearty and filling, you will love our tomato soup made from our own canned garden tomatoes and coconut milk, with quinoa for protein! Comes with a side of our homemade almond crackers or cornbread.
Best chili ever! Made from sprouted pinto beans cooked with onions and garlic and seasoned with herbs and our own canned tomatoes. Comes with a slice of our whole grain cornbread or hand made almond crackers.
Sides
Salads
All of our salads are made custom to your specifications on order. It may take a few extra minutes, but it will be worth every bite! We use the freshest ingredients possible and as many local veggies as we can get! In the cool season you may find fresh picked local lettuce and greens, while in the summer we have locally grown tomatoes and cucumbers. Try a salad today–you'll taste the difference!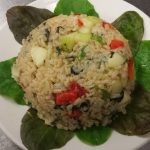 Enjoy our delicious garden salad with fresh green leaf lettuce, shredded carrots, sliced cucumber, grape tomatoes, red onion, sunflower seeds, and chopped pecans. Served with your choice of our in-house salad dressings: Creamy Herb, Thousand Island, and Italian Drizzle.
Extra toppings are seasonal, but may include avocado, broccoli, cauliflower, olives, cabbage, baby kale, baby spinach, and green peas.
Sandwiches
Our sandwiches are made custom on order, and may take a few extra minutes. Everything is so fresh and delicious, you won't be disappointed!
We make our own veggie burgers out of oats, walnuts, vegetables, and mushrooms. They are toasted (not fried) and served on our own in-house whole wheat bread with green leaf lettuce, sliced tomato, pickles, Daiya cheese, and organic ketchup. Comes with a side of sweet potato chips.
Sliced cucumber and sliced onions are also available on request, and avocado can substitute the Daiya cheese.
Imagine fresh sliced avocado, sliced tomato, sliced crispy cucumbers and a beautifil green leaf of lettuce all assembled together on our whole grain bread, with a hint of salt and moistened with our creamy herb dressing. It's totally amazing! Comes with a side of sweet potato chips.
This is our customer favorite sandwich! Handmade toasted falafels (not fried) in a whole wheat pita pocket with green leaf lettuce, tomato, cucumber, and our homemade dressing. Served with a side of sweet potato chips.
Our fresh garden salad in a pita sandwhich, with green leaf lettuce, tomato, cucumber, shredded carrots, onions, and sunflower seeds, with our in-house Creamy Herb Dressing.
Almond Butter & Jam Sandwich
Almond Butter Sandwich
$8.99
Creamy Almond Butter and our own in-house fruit spread on our whole wheat bread, served with a side of sweet potato chips.
Desserts
Our bakery has an assortment of muffins, cookies, and energy bites that are healthy and low in sugar. They taste so good, you'll want to take a dozen home with you!
We always have four varieties of muffins all through the year. Blueberry, Double "Chocolate" (Carob), and Cranberry Orange are available all year long. Our seasonal ones include: Pumpkin Spice, Carrot Raisin, Apple Cinnamon, and Zucchini Spice.
Our Gluten-Free Muffins come in Blueberry, Double "Chocolate" Carob, and Pumpkin Spice.
Our Cookies come in three flavors: Oatmeal Carob Chip Cookies, Pecan Cookies, and Gluten Free Carob Chip Cookies. We recommend trying all three!
Energy Bites
Dozen Energy Bites
$12.99
Looking for something sweet that's grain free? Look no farther! Our energy bites are all grain free–they are made from dried fruit, dates, and nuts.
Our most popular flavors are: Hawaiian Macadamia Pineapple Bites, Apricot Almond Ginger Bites, and Fig Walnut Bites.
They are great straight out of the refrigerator or freezer and you'll probably want a dozen to take home with you!
Fruit Smoothie "Ice Cream"
8 oz. Ice Cream Cup
$6.99
Strawberry Banana Smoothie Ice Cream is like a soft serve ice cream that's made from fruit and soy milk with a hint of organic sugar. It's totally amazing!
Meal-Replacement Smoothies
Whether you want a giant fruit smoothie or large green smoothie, you've come to the right place!
Comes with strawberries and bananas, with your choice of soy milk or coconut milk. You can request a RAW Meal Smoothie, or a RAW Protein Smoothie.
(Note: the RAW Meal Powder and RAW Protein Powder are from Garden of Life)
Made with fresh pineapple slices, fresh garden greens (can be any combination of greens: kale, spinach, collards, chard, spring mix, etc.), and soy milk. You can choose a RAW Meal Smoothie or RAW Protein Smoothie.
(Note: the RAW Meal Powder and RAW Protein Powder are from Garden of Life)
Drinks
All our drinks are made fresh on order, so it may take a few extra minutes. We are a caffiene free restaurant, so all our drinks contain no caffeine.
We serve 12 kinds of herbal teas! We can serve them hot or iced, sweet or unsweet. You can choose organic sugar, stevia, or honey as a sweetener. Try our Hibiscus Tea, or our Bilberry Tea–those are our top two customer favorites!
This coffee substitute is very popular, because it tastes very similar to coffee–without the acidity. We can serve it hot or cold, and you can try it black or with coconut cream and / or sugar.
Power Pak Vitamin C Drink
If you're looking for a flavored drink that's healthy and not too sweet, this is perfect for you! Power Pak is an electrolyte boost, and 1200 mg of vitamin C–perfect for energy, immune system, or sports recovery. Comes in several flavors: Pomegranate Blueberry, Tangerine, Orange, Guava Passion Fruit, Lemon Lime, etc.
We always have 16oz bottles of water in the refrigerator—perfect for taking with you on the road.
We have our own Reverse Osmosis Water Purification System at Kristina's Ktichen. All of our cooking and baking is done with purified water, and all water and ice that we serve is purified water. It's free, so ask for a glass of water and taste the difference!
Group Rate Meals
Reservations are required for large groups. We reserve the right to limit the number of items served.