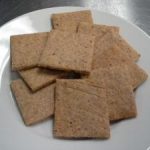 Gluten-Free Almond Crackers
 I LOVE crackers! But it's been so discouraging trying to find a good cracker recipe–gluten-free OR wheat! It seems that either they are too tough, or they taste perfect straight from the oven and turn soggy overnight. However, that all changed this past December! I was trying to come up with a good gluten-free pie crust recipe and accidentally added too much water to the recipe. Ugh! I knew that would make a terribly hard pie crust, as sticky as the dough was. So, I set the ball of dough aside and started all over with the pie crust recipe. It did turn out perfect as a pie crust the second time around and I was happy. But what to do with that ball of dough? Aha! I'll make crackers out of it! So my mother and I rolled it out and baked it…. and we couldn't believe it!! It was the best crackers we'd ever tasted! So we left some out for the next day… and they were just as crisp as the day they were made! I was so excited that I made another batch, and set aside a small pile of them for my husband to try. I guess I hid them well, because 5 days later I found them still sitting out where I'd hid them! Of course, they never made it to my husband, because I had to eat them all! LOL! But the amazing thing, even after sitting out in the open for 5 days on a cooling rack, they were STILL crisp! So yes, these crackers are totally the winner and I can't wait to let you try making them!
YIELD: 96 small crackers
Ingredients
1

cup

almond meal

(also known as almond flour.) Grind almonds in food processor OR blender.

1

cup

sorghum flour

1/2

cup

tapioca flour

1

tsp

salt

1/3

cup

coconut oil

1/3

cup

water

1/4

cup

sugar

organic; can decrease for a less sweet cracker. They are good with herbs, such as garlic, onion, rosemary, etc.
Instructions
IF you have a food processor, you can just throw all ingredients in and turn it on until nicely mixed.

ADD 1 more Tablespoon water, if needed, to make a nice dough. It should be soft, but not super sticky.
If you don't have a food processor:
MIX dry ingredients.

ADD coconut oil and mix thoroughly.

ADD water and MIX again. Add 1 more Tablespoon water, if needed, to make a nice dough. It should be soft, but not super sticky.
Making the crackers:
PLACE ball of dough onto a large cookie sheet covered with parchment paper OR sprayed with oil.

COVER with plastic wrap.

ROLL out until it is slightly thicker than a wheat thin.

SPRINKLE with salt crystals OR herbs OR anything you'd like to sprinkle on top.

SCORE into cracker squares (a pizza cutter wheel works best, otherwise, use a sharp knife dipped frequently in cold water).

BAKE at 350F for 15 minutes, OR until edges begin to look lightly golden.

REMOVE all edge pieces first and place on cooling rack.

BAKE remaining crackers 5 more minutes, then remove the next row OR two that are done.

CONTINUE baking until all crackers are done.

COOL thoroughly before storing (OR eat immediately!)

ENJOY!
Recipe Notes
You can do so many different variations with this recipe! You can decrease the sweetener and add onion powder and herbs to make herb crackers, or you can sprinkle the top with cinnamon, just to name a few! If you have the big salt crystals for pretzels, sprinkle some on top before baking, for plain salted crackers. If you like really crunchy crackers, increase the water. If you like soft, melt-in-your-mouth morsels, then decrease the water slightly. The sky is the limit!
Nutrition Facts
Gluten-Free Almond Crackers
Amount Per Serving (6 crackers)
Calories 130
Calories from Fat 72
% Daily Value*
Fat 8g12%
Sodium 146mg6%
Potassium 23mg1%
Carbohydrates 14g5%
Protein 2g4%
Calcium 16mg2%
Iron 1mg6%
* Percent Daily Values are based on a 2000 calorie diet.